First Call For Help wants to ensure that all students have a backpack and the school supplies that they need for this fall! If you'd like to register for a free backpack and supplies, please complete the form at the link, and mail it to First Call For Help by July 24th!
https://5il.co/1u5h0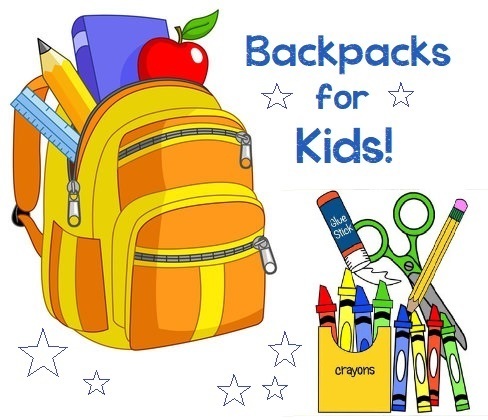 Check out all of the details for the Summer Food Program here in Hays! Holy Family/TMP students are eligible for this wonderful service in our community!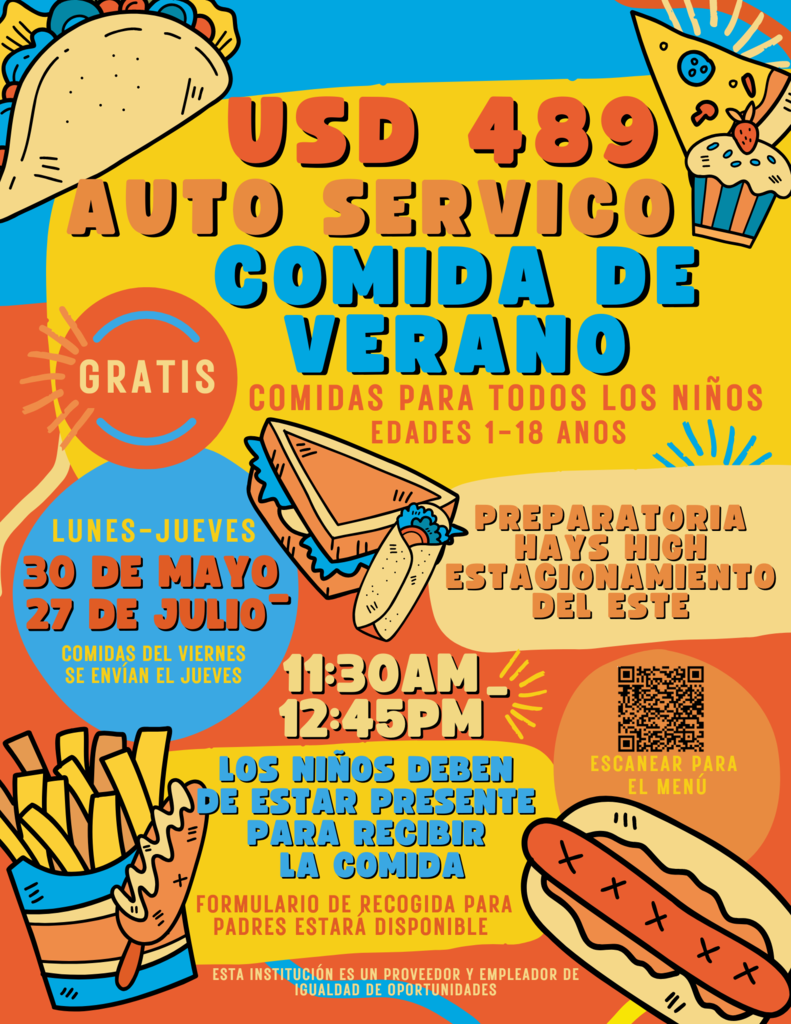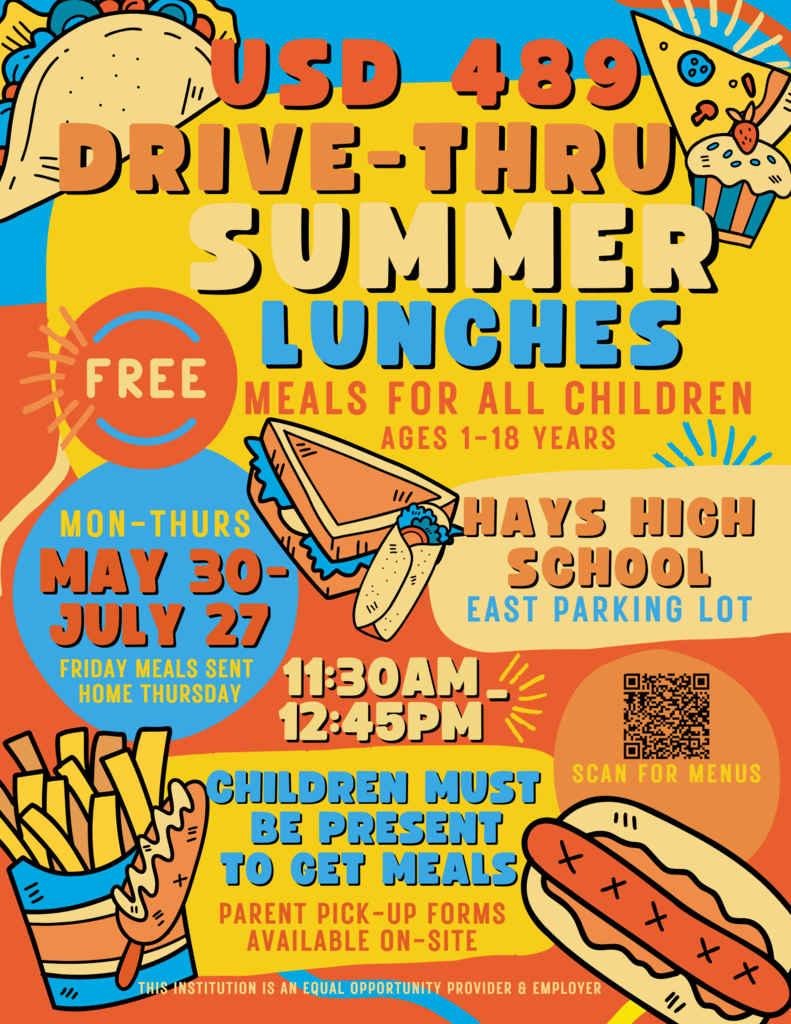 We also have openings in all grade levels for the 2023-2024 school year! Contact the school if you have any questions or would like to sign up your child!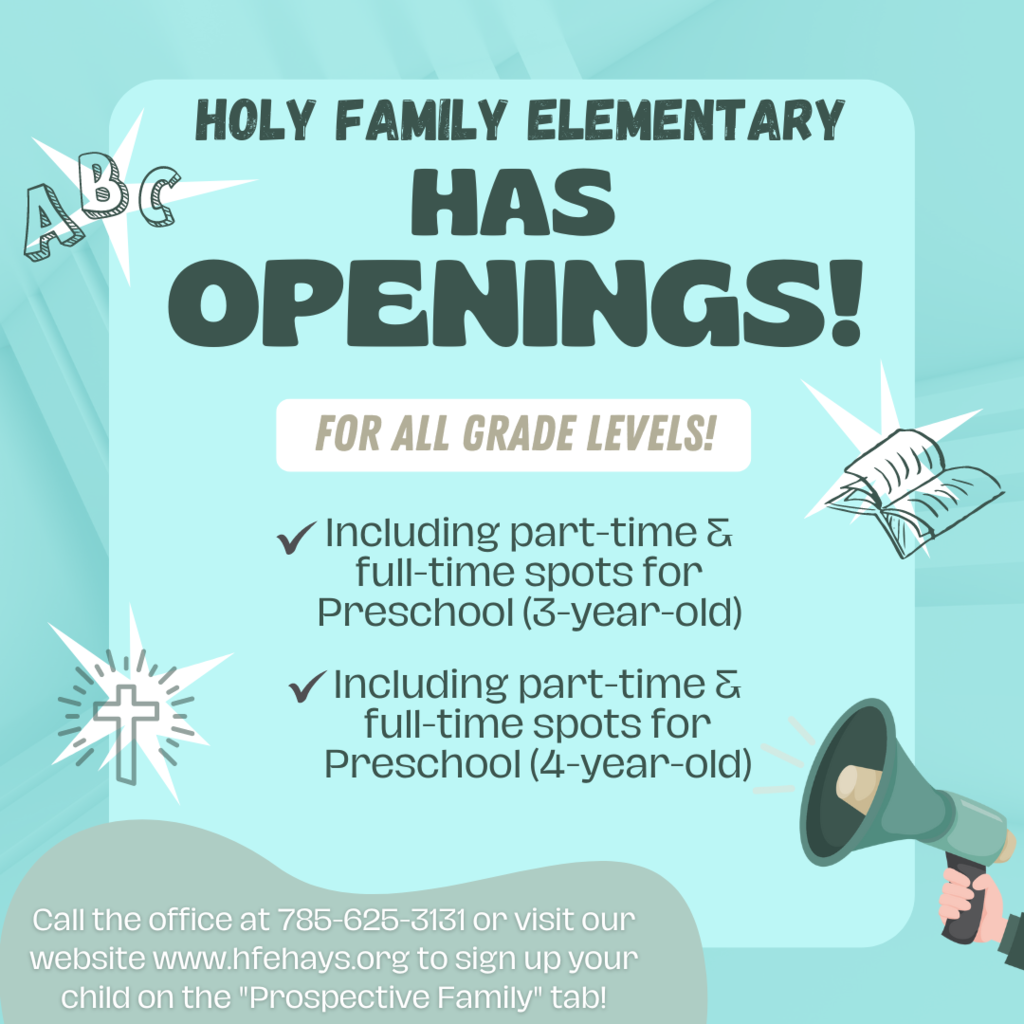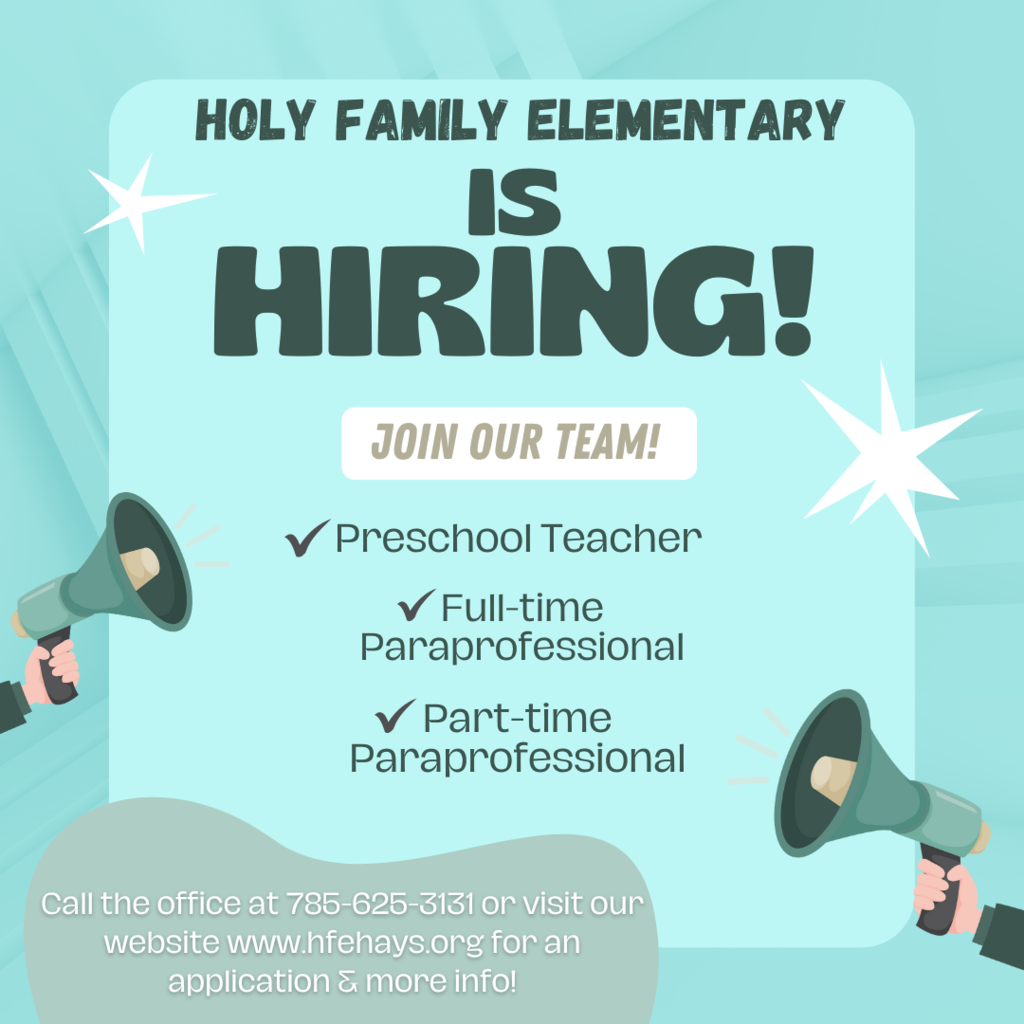 We're excited for our first ever Applebee's HFE Fundraising Day on Tuesday, April 25th! We'll earn back 50% of these select meals ALL day, including curbside to-go orders. Spread the word and place your orders for lunch or dinner! Load up an Applebee's e-card on your HFE Bucks app "RaiseRight" for another $$ kickback to you! Thanks for your support!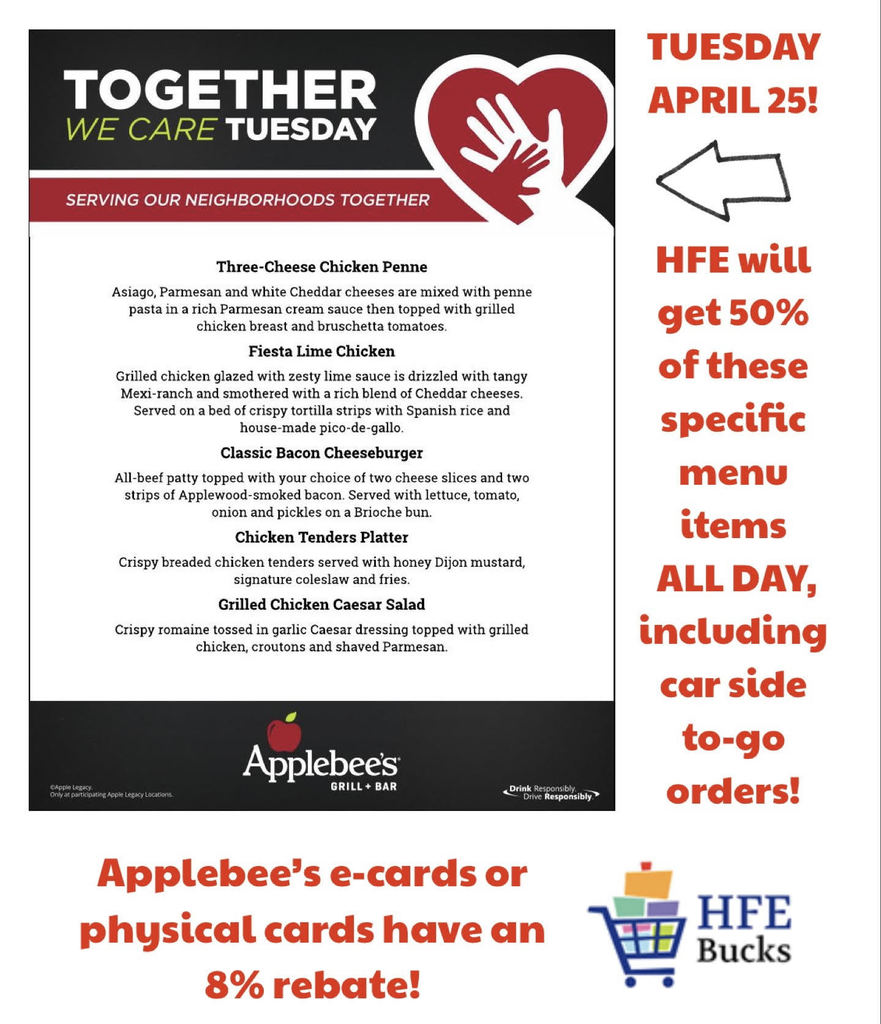 Today is an Early Release day & HFE students will dismiss at 1:15 p.m. The bus and After School Care will still be available. Please notify teachers of any dismissal changes!

Have you missed Red Wheel foods? We're bringing back another Parking Lot sale with some of your favorites! Red Wheel will run their truck sale in our North playground parking lot by the backstop from 2:30-5:30 p.m. on Thursday, April 20. No need to pre-order, simply show up, pay and take your items home with you! Anyone can stop by and order, so spread the word to your loved ones so you can stock up on these favorites while you have the chance!

Just a reminder that there is no school at Holy Family from Thursday 4/6 - Monday 4/10 due to Easter Break. Wishing you all a blessed and wonderful Holy Week; check the newsletters for mass times in the Heartland parishes!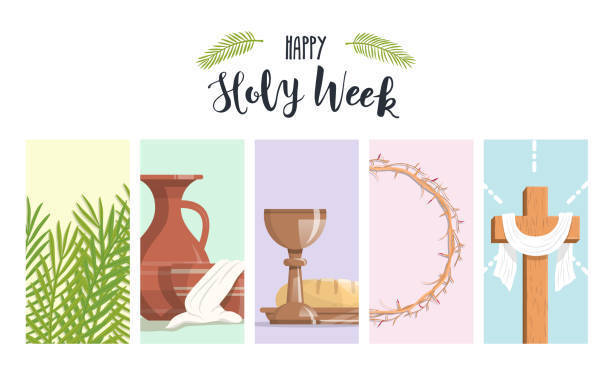 Welcome back from Spring Break! The HFE Home & School Meeting scheduled for Monday, March 20, will begin at 6:00 pm so that attendees may also attend the parish mission at 7:00 at IHM.

HFE students may wear a TMP, blue or white shirt w/ uniform bottoms tomorrow (Friday) to school! Go Monarchs!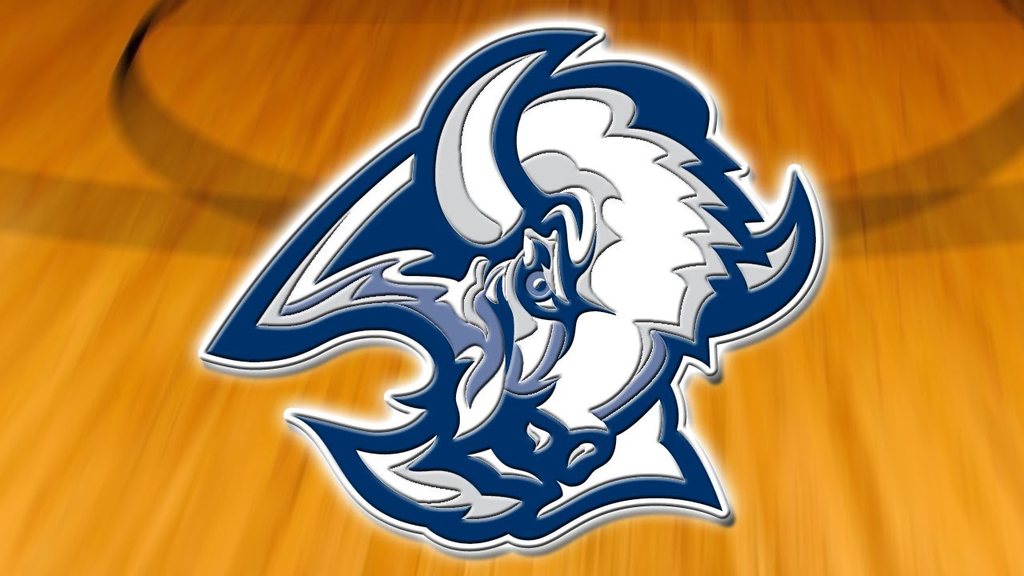 The State of our Catholic Schools Address is tonight, 6:30 p.m. at IHM. 1 parent from all HFE/TMP families is required to attend. Any stakeholders are welcome!

Hot off the press, the March lunch menu at Holy Family is ready to roll!! Follow the link, or head to your Hays Catholic Schools app! It's also posted on the website!
https://5il.co/1pwfq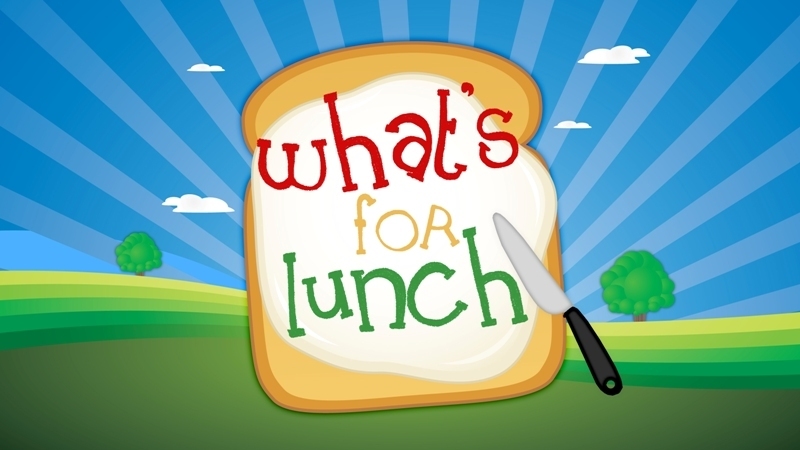 Just a reminder that there is NO SCHOOL on Monday 2/20 and Friday 2/24! We have a short & full 3-day week; students may wear aprons on Tuesday and it's free-dress day on Thursday for Spring Picture Day!

Due to the predicted inclement weather, Holy Family Elementary and TMP-Marian will not have school on Thursday, February 16th. Stay safe and warm! God bless!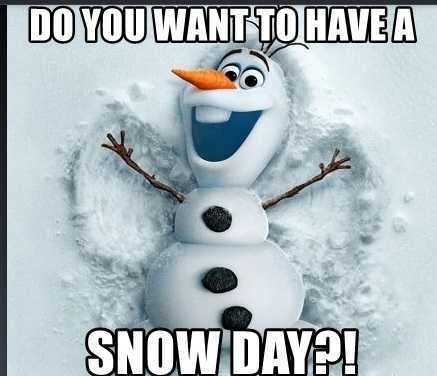 How about them Chiefs!! Chiefs, red, or gold shirt with jeans on Monday!!

It's HFE Early Release Day & Papa Murphy's Fundraising Day! Students will dismiss at 1:15 p.m. ASC & the bus will still run. Grab your favorite pizzas after you pick up your student! 10% of all sales comes back to HFE!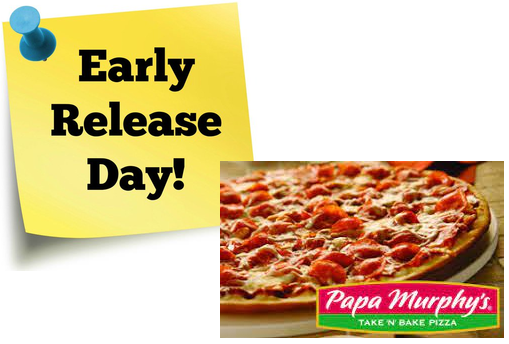 Good luck to our student contestants competing in the Ellis County Spelling Bee tonight at 7:00 p.m. at Beach Schmidt! Our finalists include Garret Billinger, Alexis Casey, Kayla Schmeidler, Arianna Cantrell-Diaz, and Mason Rozean. We look forward to hearing the results!

Today is the day!!! We hope to see you all at our Chili Supper & Bazaar today, 11:00 a.m. - 2:00 p.m. at Holy Family! Just a reminder that the Silent Auction link will be closing at 1:00 p.m. If you haven't yet, you can still drop off your desserts before 10:00 on the stage of the Little Theater! Thank you for your support of this event for HFE!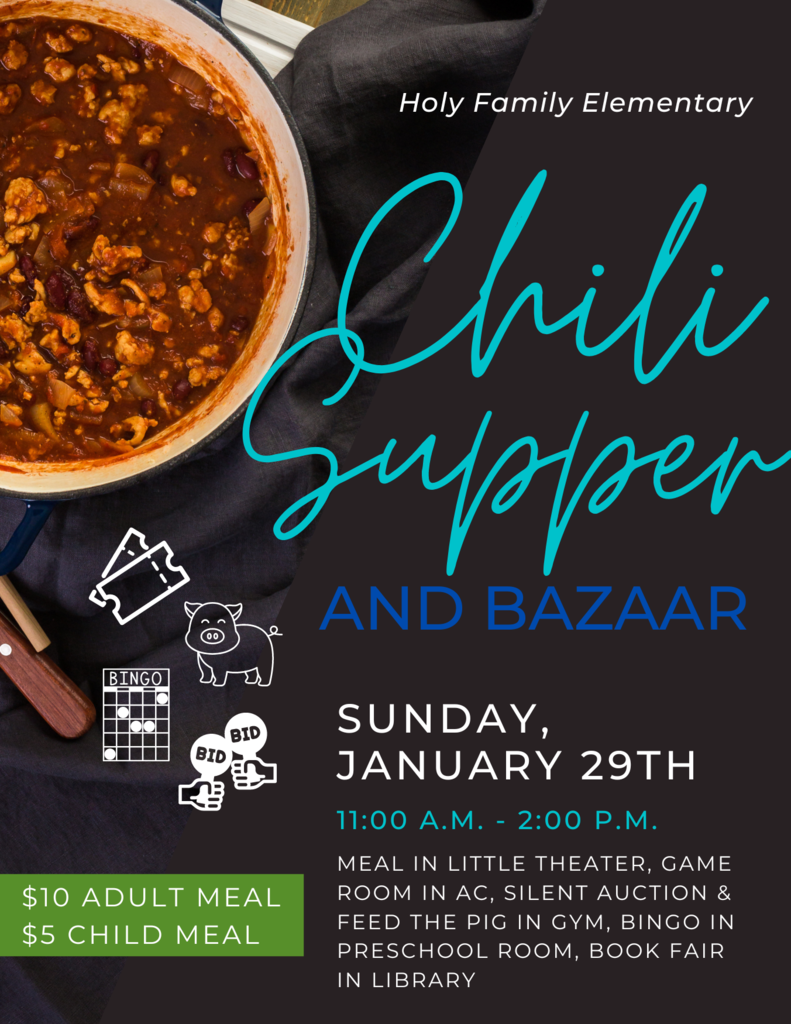 The Silent Auction site is officially set up and ready to roll! Bidding will open tomorrow morning (Saturday) at 9:00 a.m. and will CLOSE on Sunday at 1:00 p.m. Winners of items are encouraged to stop by the Gym to pick up their winning items between 1:00-2:00 p.m. Sunday!  All bidders need to register first, which takes seconds! Follow the link below to register and start previewing the wonderful auction items! ANYONE can preview the items and bid! You can also register as a bidder by texting "chili" to 56651. SILENT AUCTION SITE HERE:
https://cbo.io/bidapp/index.php?slug=chili
The beauty of the bidding format is that you can bid on items while you're sitting down with your chili meal here at school, or from home! Friends and family out of town can bid too! Spread the word to anyone interested! Happy bidding!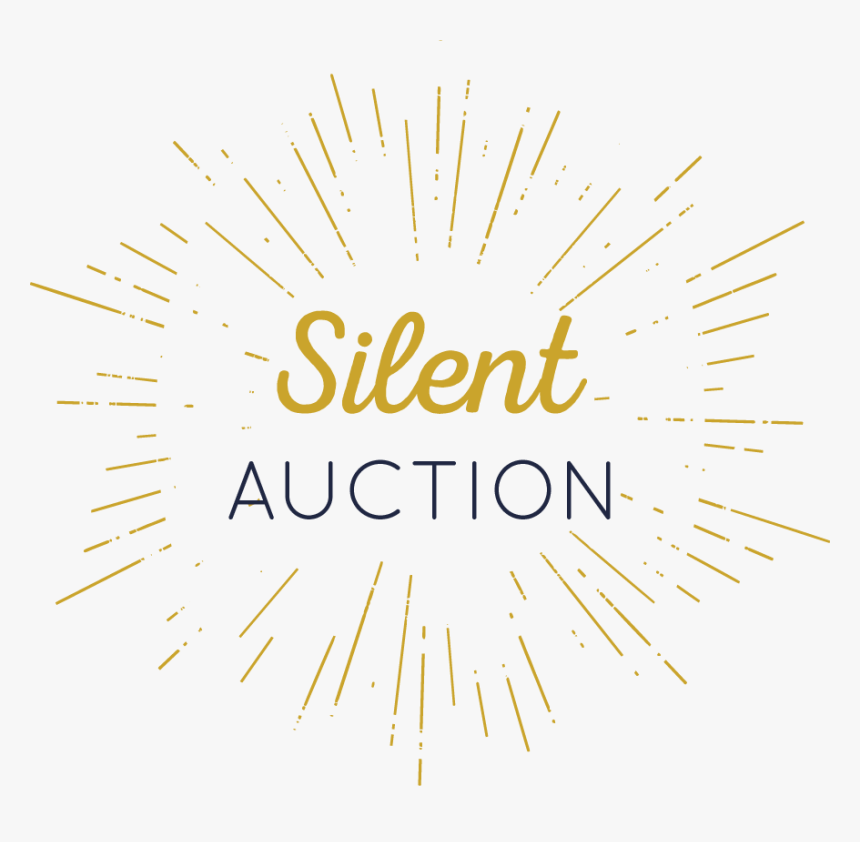 FYI Holy Family Parents! Next Monday we have "Celebrate your Nation" day for Catholic Schools Week. We will be taking a photo of the students grades KP-6th in the shape of the American flag! If your child could wear a shirt in the following colors by grade level, that would help us easily arrange the students! 6th grade boys, we'd prefer darker shades of blue if possible! Students may wear jeans or uniform bottoms with their shirts. We can't wait to share the finished product with you!