Lost Key Clue #12: Wadable water will wander willowly

Lost Key Clue #11: Hidden "hollow" in the hood

Catholic Schools Week Mass 2022! We welcomed TMP-M, Sacred Heart, and St. Mary's to IHM. Thank you to Bishop Vincke, the pastors and priests for joining 725 students in praise, worship, and prayer! #csw2022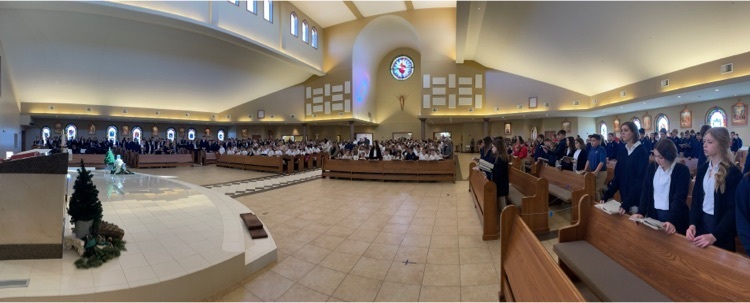 Friday of Catholic Schools Week is always a highlight! This morning we kicked off our first Friday of the month with the 6th-grade led prayer circles and then they lead their HFE Families through activities prepared by the teachers. STREAM activities, Bible trivia, snacks, and bingo! Next up, the all Catholic school Mass!

Lost Key Clue #10: Amazing accelerating aluminum ain't it

Lost Key Clue #9: Ararat's "Ark" is a ways away

Lost Key Clue #8: Kites and kids kibitz

Lost Key Clue #7: Intraurban, interior, in-town

Lost Key Clue #6: Thoroughfare takes trekkers toward traverse

Lost Key Clue #5: Please put pet perishables in prescribed pots

Lost Key Clue #4: Relax, recline, rest, and responsibly ride by

Lost Key Clue #3: Sunny structures shade sojourners from the sky

We invite you to "Feed the Pigs" at Holy Family! The classroom pigs are officially open for donations. As the classroom pigs get "fed" with donations, that class earns some exciting activities and incentives during the rest of the school year! This is a wonderful opportunity to support the school if you are unable to enjoy the chili supper meal, or just to help ensure that your child's class earns that most exciting incentive! ~ To make it even more convenient, you'll be able to donate to classroom pigs right from your phones/devices once the Silent Auction weblink is posted later this week! Can't come to the chili supper in person? No problem! You can bid on Silent Auction items and Feed the Pigs from the comfort of your own home! ~ The classroom pigs are on display in the classrooms, and the students are excited! You can send cash or check in a sealed envelope with your child labeled "Feed the Pig", and please write for which room! Donations can be made for classroom pigs up until this Sunday 1/30, closing at 7:00 p.m. as the Chili Supper wraps up! Thank you for your support in this way to Holy Family!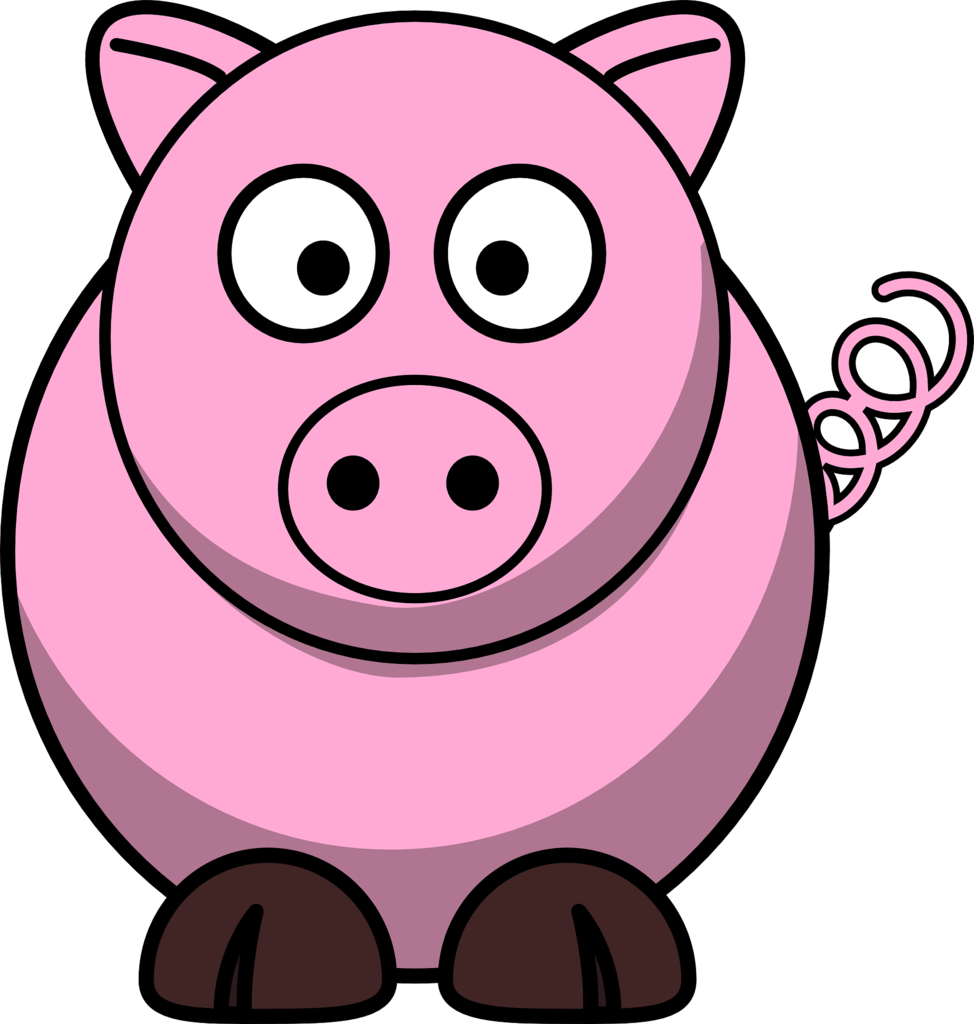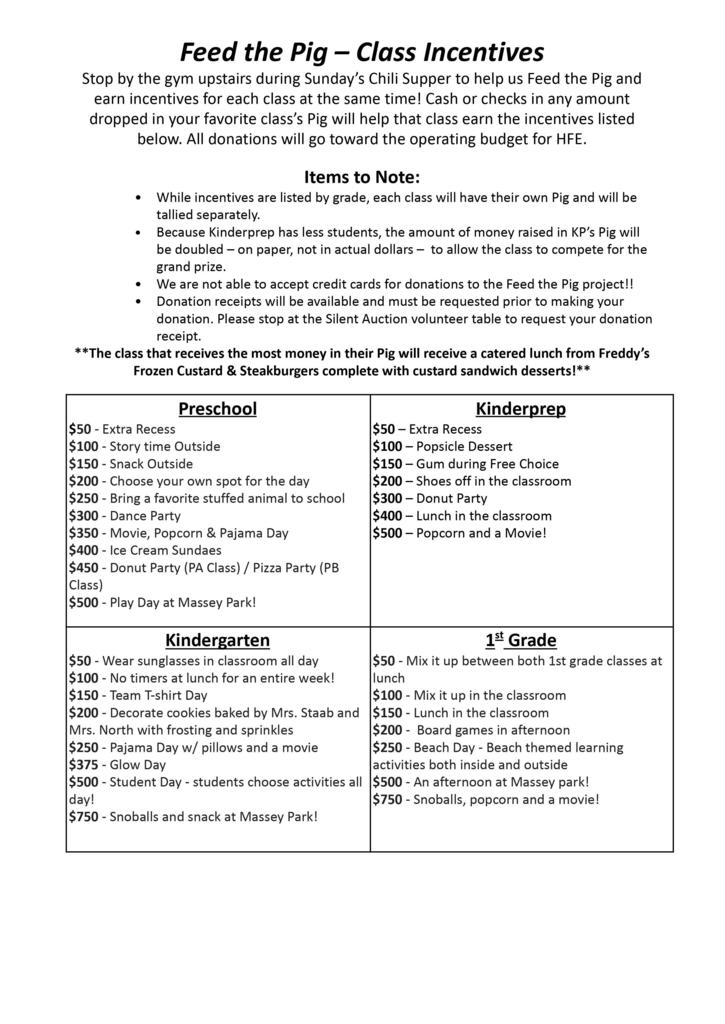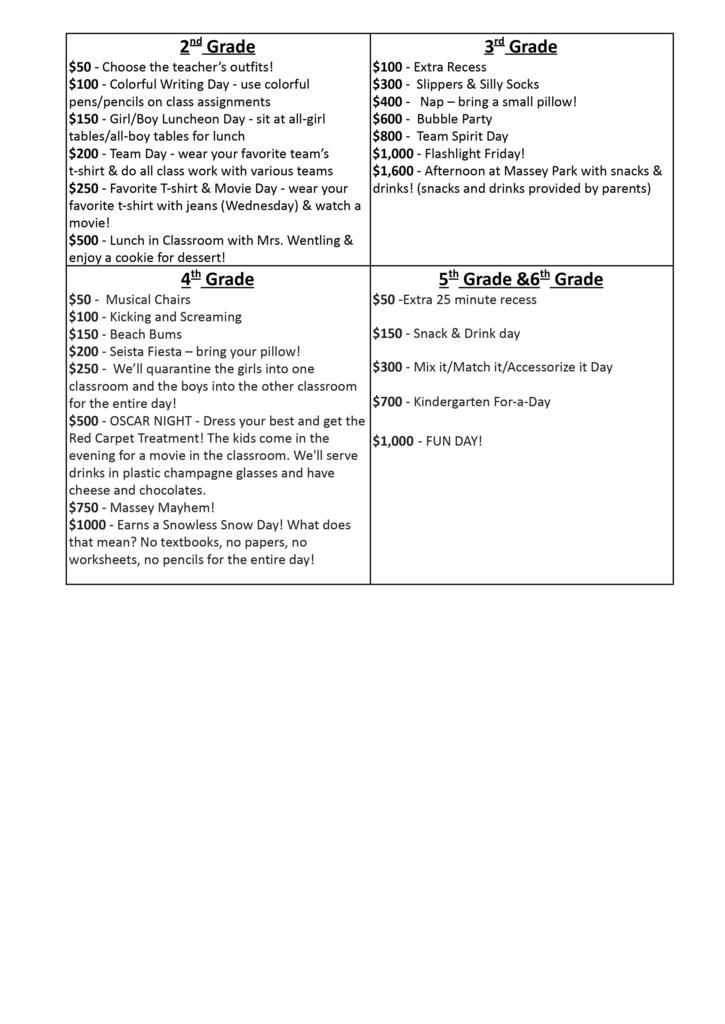 There was one location change made to the Catholic Schools Week events for Holy Family. The location of the All Catholic School mass with the Bishop on Friday 2/4 will be at IHM Church. See the updated flyer here. Thank you!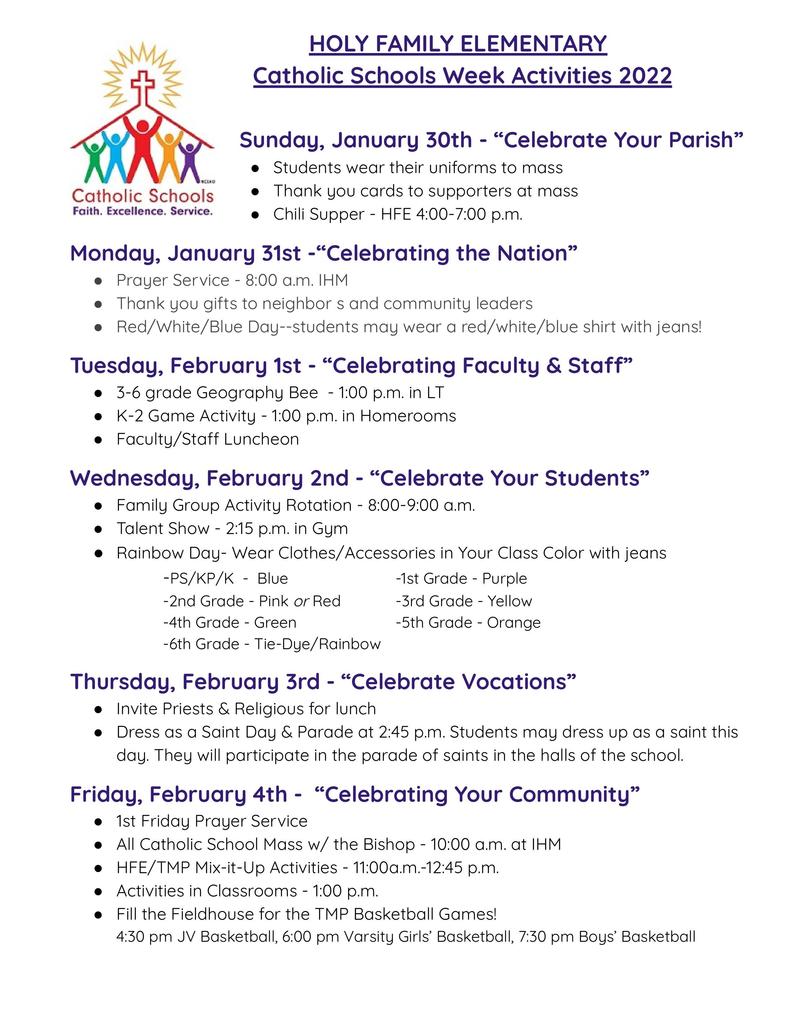 Catholic Schools Week is just around the corner, and as a faculty/staff and student body, we look forward to this week every year! Getting to see the talent of our students, give thanks to our supporters, celebrate with activities & fellowship with the TMP-M students/staff, attend mass with the Bishop, and dress up for special themed days makes this week one full of memories that will last a lifetime! See what all we have planned for this special week on the flyer included here!

Hello HFE Families! ~ A quick reminder that donations for the Chili Supper Silent Auction are due to Kelsi Pfannenstiel and/or Natalie Ellis by THIS FRIDAY (1/21), to ensure they're prepared for online bidding! If you've committed an item, please bring it to the school office or make arrangements with Kelsi & Natalie – if you're considering donating, there's still time! Please see the emailed HFE newsletter for details. Thank you!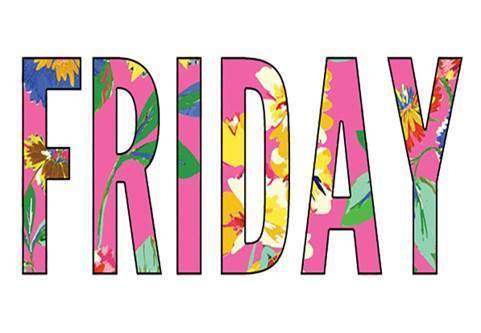 Congratulations to the HFE spelling bee contestants and winners! The top 4 move onto the county spelling bee. 1st 🥇 Colby Schmeidler 2nd 🥈 Kaymbree Staab 3rd 🥉 Hailey Robben 4th 🏆 Alex Unrein Alternate Mason Rozean It takes great courage to spell in front of the whole school. We are proud of all of our contestants! Fun facts: we had a brother (Colby)and sister (Kayla), twin brothers (Alex and Braden), and two cousins (Mason and Hayden) competing against each other. While all were highly competitive, they demonstrated outstanding sportsmanship! Thank you to our committee that makes this possible each year- Mrs. Lori Flax, Mrs. Teresa Schrant, Mrs. Cristy Dinkel, and Mrs. Paula Beck. Our student gallery was especially impressive while they cheered on their classmates!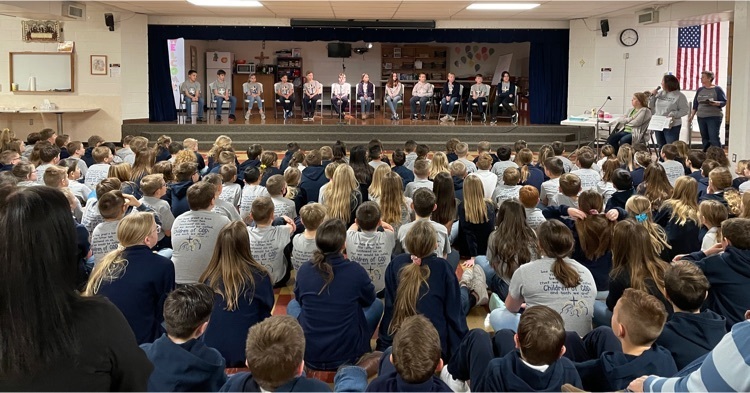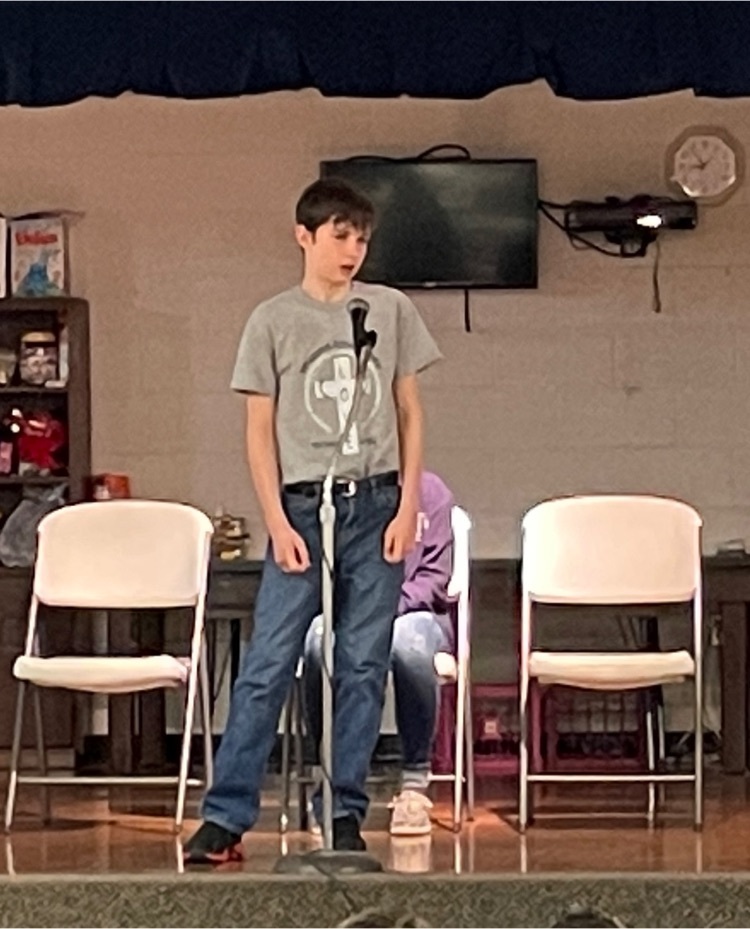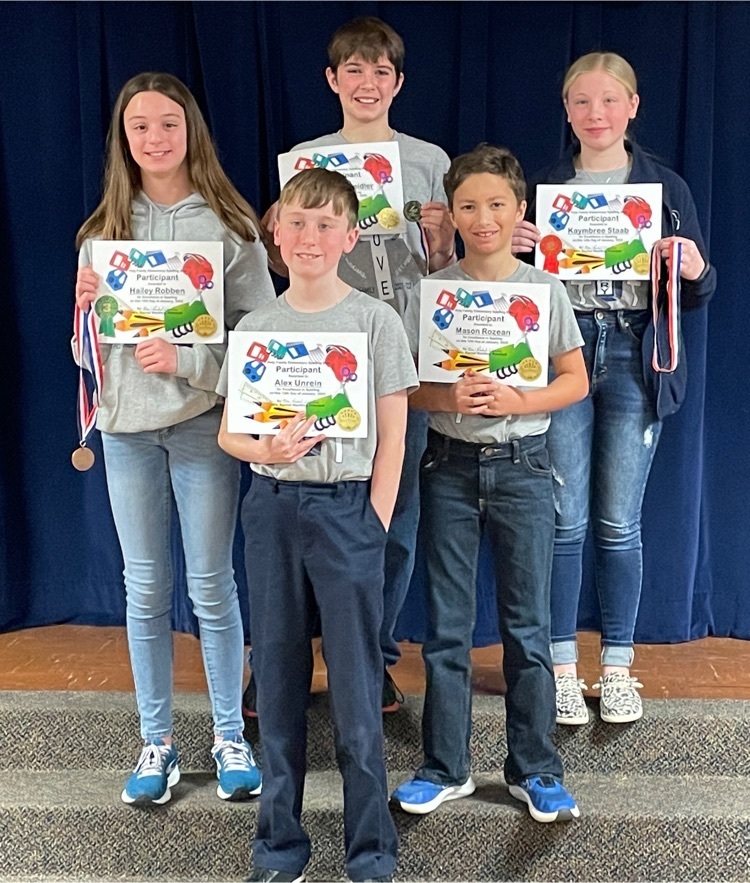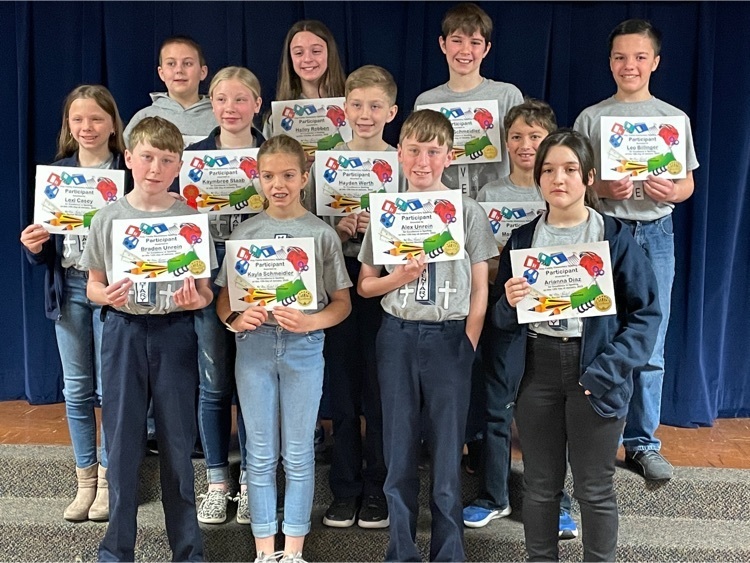 Holy Family Elementary will not have school tomorrow, Thursday 1/6, due to the predicted frigid wind chills and snow. Stay warm and safe!

Reminder: today is a half day of school at HFE, and students will dismiss at 11:00. There will be no lunch, After School Care, or bus services today. The office will close following dismissal for our staff Christmas luncheon. Merry Christmas and Happy New Year to all!

Please be aware that there is a funeral at 10:00 am at IHM today, December 17. Refrain from parking in the north church parking lot. School dismissal will take place as usual and will begin at 10:55 am to avoid interference with the funeral procession. Thank you for a fast and successful first semester! We wish all of our HFE families a safe and healthy break!